The Pen – Life's Most Valuable Tool!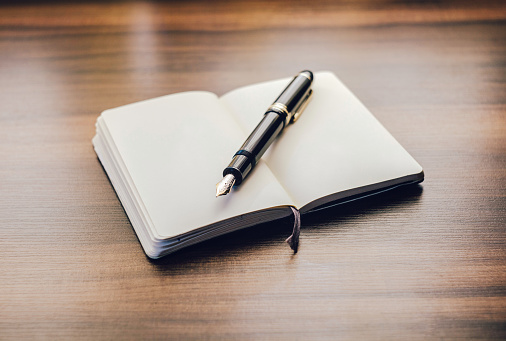 "On every journey you take, you are met with options.
At every fork in the road, you make a choice.
These are the decisions that shape your life." -Mike DeWine
The older I get, the more cognizant I become of the power I have at my disposal to influence and shape the path of my life. The reason I'm sharing these thoughts is that recently, so many of my friends and family have found themselves facing extraordinary circumstances and seminal forks in the roads of their own lives. These sudden departures from the comfort of known and familiar pathways can be jolting and daunting. That they are life altering usually goes without saying. That we greatly control how that alteration occurs – is something we have great power and control over, and often overlooked or buried beneath emotional upheaval.
There was a terrific Tom Cruise movie where every time he was killed in battle – he was reborn to three days earlier when the battle was just beginning. He was able to "adjust" his strategy and actions so that eventually all of the defeats he suffered – resulted in ultimate victory. We've all played that parlor game of "what if …" relating to circumstances and events that we'd like to relive or rewind, so that we might make the necessary adjustments for a more satisfying outcome.
While we can't pull off a full reset – we do have the next best thing at our disposal. The opportunity to recraft the circumstances of our own stories in an effort to forge a happier and more satisfying outcome going forward. Life is an unpredictable roller coaster ride. Things happen we can't control.  As I've always maintained and preached – we're defined by how we respond, not by what we face.
The most exciting thing about the last few pages of your life is that they don't have to be the next few pages of your life. You get to choose. You get to decide. You get to alter the script in any way you see fit to improve the ending. This is unbelievable power if we'd just recognize, accept, and grasp it! So many people ignore their pen and paper in favor of accepting the depression and despair of change or upheaval.
The arrival of a pen and a blank sheet of paper is hardly limited to the major and predictable tragedies, challenges, and obstacles of life. We arrive at forks-in-the-road regularly. Our choice doesn't have to dictate our path, merely present an opportunity to better navigate it. Every time we're faced with an event or circumstance that demands, often harshly, a course alteration – it simultaneously provides ink and paper to begin making adjustments and fine tuning our story and, thus – our destiny.
In closing, I'd simply turn to the beautiful sentiments of one of our greatest national treasures, Brene Brown. "When we deny our stories, they define us. When we own our stories, we get to write a brave new ending. Owning our story can be hard but not nearly as difficult as spending our lives running from it. Only when we are brave enough to explore the darkness will we discover the infinite power of our light. We own our stories, so we don't spend our lives being defined by them or denying them. And while the journey is long and difficult at times, it is the path to living a more wholehearted life."
"The pen that writes your life story must be held in your own hand."   –Unknown